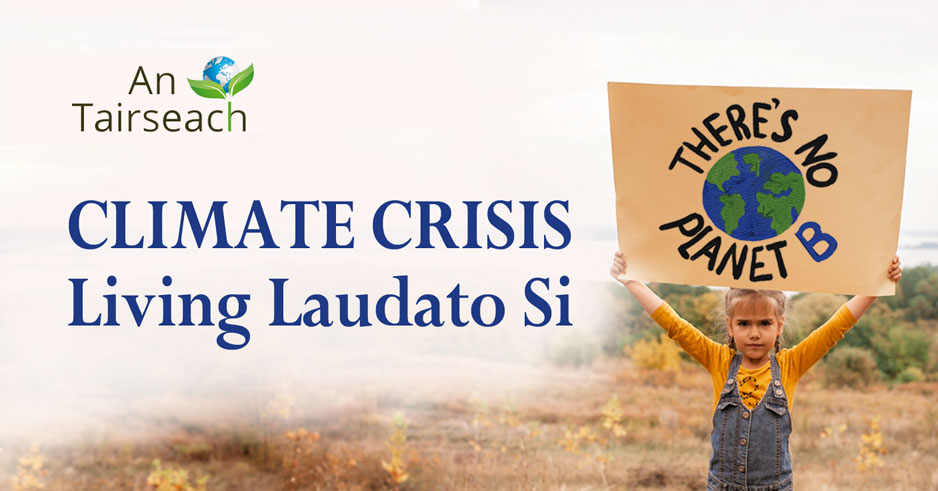 Autumn Programme 2021 – Climate Crisis – Living Laudato Si
Tuesday, 5 Oct 2021 – Friday, 8 Oct 2021
Autumn Programme 2021
Climate Crisis – Living Laudato Si
Presented by Raoul Empey, John Sweeney & Jane Mellet
Laudato Si and Care of our Common Home
The human roots of the ecological crises, integral ecology, ecological education and spirituality are central concerns of Pope Francis's encyclical. Pope Francis offers a spirituality, which is both active and contemplative and speaks of conversion to integral ecology. "Many things have to change course, but it is we human beings above all who need to change. We lack an awareness of our common origin, of our mutual belonging, and of a future to be shared with everyone… A great cultural, spiritual and educational challenge stands before us, and it will demand that we set out on the long path of renewal." Laudato Si #202
This week we will be challenged, encouraged and inspired to "set out on the long path of renewal" by these experienced and dedicated presenters:
Raoul Empey, Tuesday 5th October 2021
Raoul Empey is founder of Sustineo, the company works with organisations to save energy, reduce greenhouse gas emissions and raise environmental awareness. Raoul was personally trained by former U.S. Vice President Al Gore to deliver the Climate Reality presentation, which is an up-to-date version of the Oscar-winning documentary  'An Inconvenient Truth'.
John Sweeney, Wednesday 6th October 2021
One of Ireland's leading climate scientists, John Sweeney has been a member of the Geography Department at Maynooth University since 1978. He contributed to the reports of the Intergovernmental Panel on Climate Change, which was awarded the Nobel Peace Prize in 2007. John will challenge and impell us on the pathway to sustainability.
Jane Mellet, Thursday 7th October 2021
Jane Mellett is the Laudato Si Officer with Trocaire. In 2018 she embarked on a 1,000 km climate pilgrimage carrying the message of Laudato Si from Italy to the UN Climate Conference in Poland (COP24). Since then she has been involved in the Global Climate Strikes (Fridays For Future) with a special focus on mobilising faith communities to respond to the call of Laudato Si. (Jane has a background in pastoral ministry, theology and spirituality.
Dates: Tuesday 5th to Friday 8th October 2021
Arrival between 4pm and 6pm Monday 4th October. Depart after lunch on Friday 7th October.
Deposit: €100
Full payment: €420 (inclusive of deposit) Three and a half day course, includes course content, accommodation, half board including teas/coffees & snacks.
* Non residential places are also available for the week. Cost: €280
Event Location
An Tairseach
Kilmantin Hill
Wicklow Town, Wicklow, A67K259