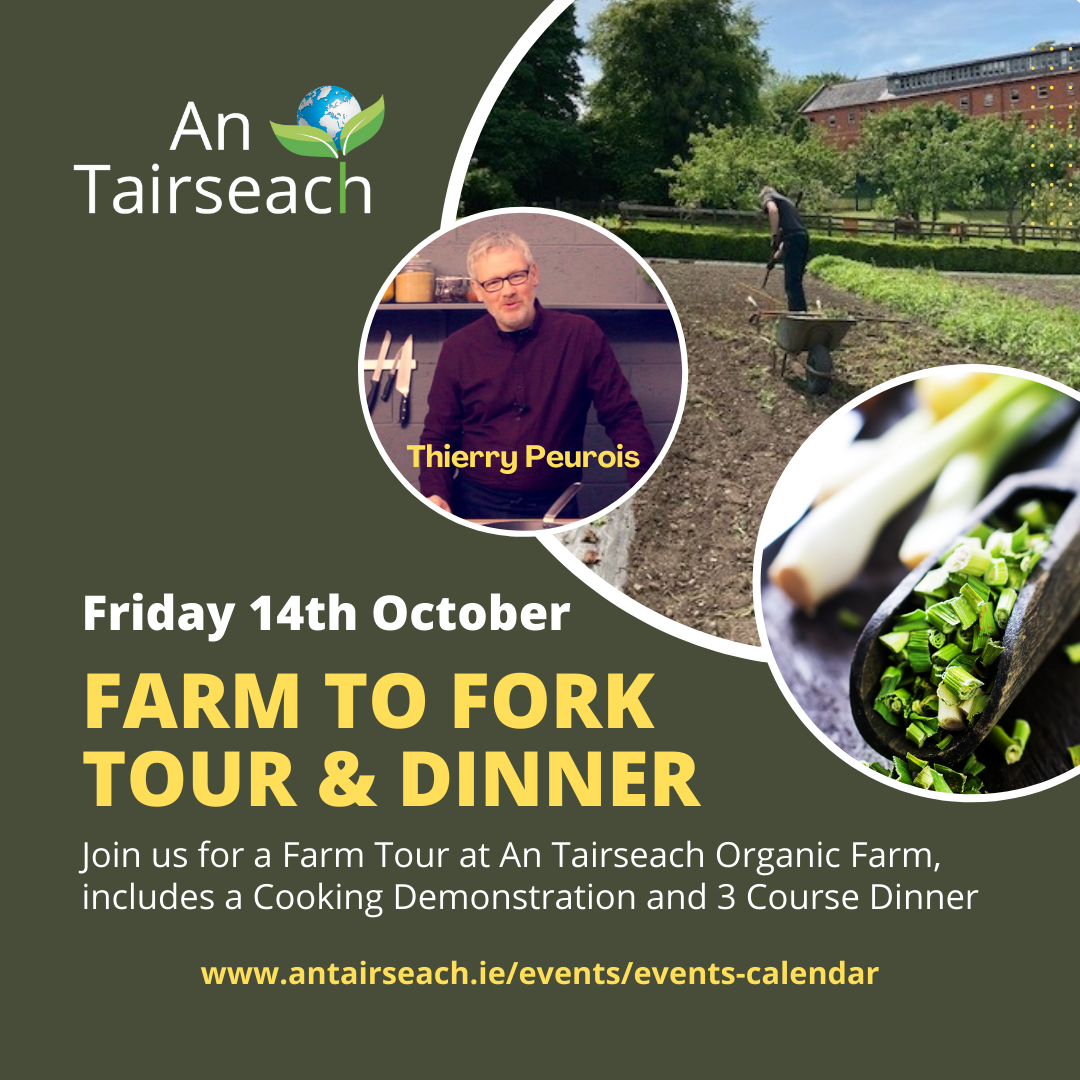 Farm to Fork Tour, Cooking Demonstration & 3 Course Dinner with Chef Thierry Peurois
Farm to Fork
Farm Tour, Cooking Demonstration and 3 Course Dinner at An Tairseach Organic Farm & Ecology Centre
Date: Friday 14th October 2022  Time: 5:30pm to 9pm
Come join us in the Ecology Centre where you will see a short visual presentation on the origins of An Tairseach. This will be followed by a guided tour of the gardens and growing area in the farm. Meet Nancy and the other pigs, smell the lush growth of the vegetables and simply enjoy this hidden gem in Wicklow town.  For over 20 years we have been practicing organic farming, producing quality food that is beneficial to the land and the wildlife and employed many people. This is really a great example of sustainable living that will benefit future generations in Wicklow Town.
Up your entertaining skills with this food demonstration by Thierry Peurois in the beautiful grounds of An Tairseach. Award winning French chef Thierry Peurois and owner of Wicklow based Le Paysan, has been in the catering and food industry for 35 years and has vast experience as a chef in Michelin starred restaurants. Thierry will demonstrate the preparation of a three-course meal which can be easily replicated in your own kitchen using seasonal produce from our organic farm.  You will learn how to create a beautiful 3 course dinner with his unique finesse and style.
This event will be limited to 20 participants only.  Book early to avoid disappointment.
Cost:  €60 for Tour, Cooking Demonstration and 3 Course Dinner
Event Location
An Tairseach
Kilmantin Hill
Wicklow Town, Wicklow, A67K259